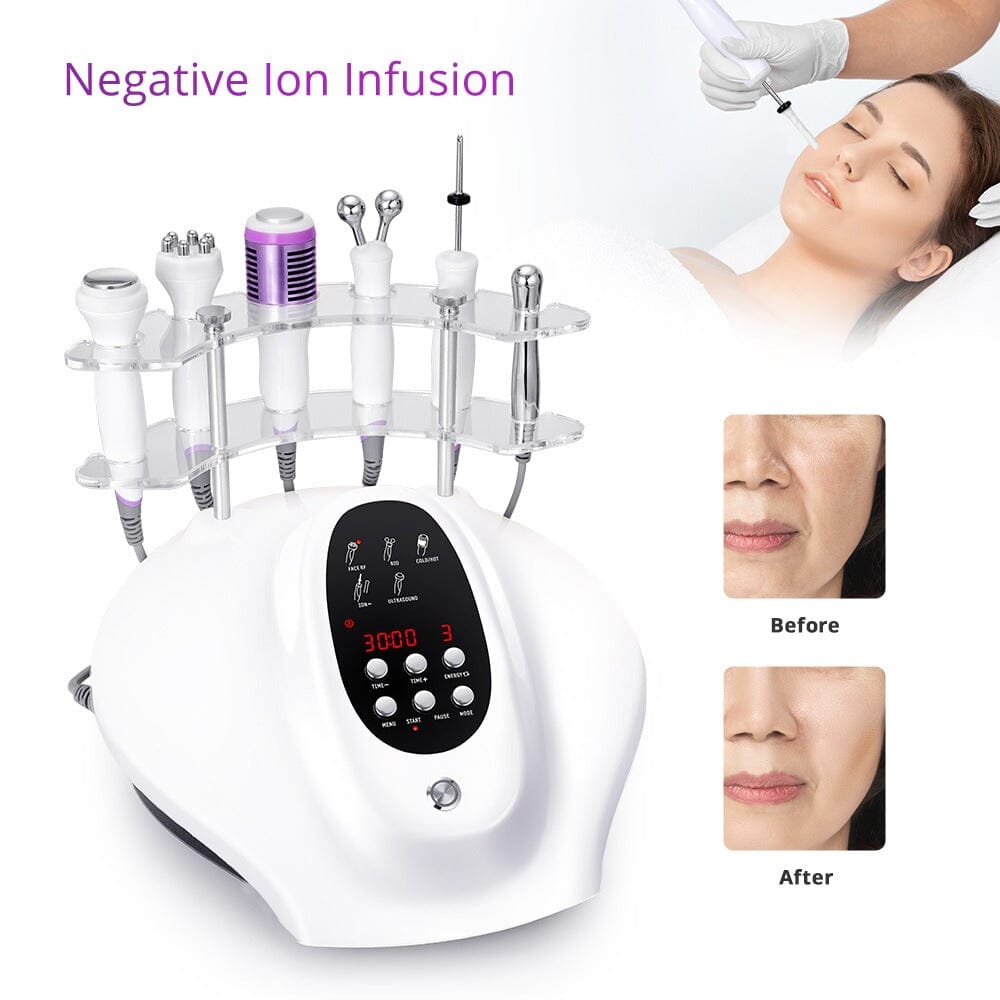 BRUUN 5 in 1 Ultrasonic R-F Skin Tightening Facial Beauty Machine
Regular price
$515.00 USD
Sale price
$515.00 USD
Regular price
$629.00 USD
Estimated Delivery: (USA Only)Dec 05 - Dec 09

Free Shipping: On all orders over $39 (USA Only)
BRUUN 5 in 1 Ultrasonic R-F Skin Tightening Facial Beauty Machine
Regular price
$515.00 USD
Sale price
$515.00 USD
Regular price
$629.00 USD
Product description
Shipping & Return
Ultrasonic for skin care anti freckles blackhead removal

-ION Micro current face-lifting

Hot&Cold hammer for pores shrinking

Rf face skin lifting tightening

Shipping Time: 8 – 10 Days


Product Introduction:

The cool thing about this one is that it brings together features that solve most skin problems. It contains a +Hot&Cold therapy hammer+ + -ION Skin-lift +Sixtupole RF handle +High Microcurrent handle +Ultrasound handle.
In different skin problems can be comprehensive care.
The overall design of the machine is more integrated and more compact, this instrument can be carried easily. It can be used at home.
Functions & Advantages:

1)Ultrasonic handles
Ultrasonic utilizes sonic vibrations, It can be used to face .for face cleaning and nutrition introduction, it works one million times per second. The ultrasonic wave could stimulate skin tissue and improve the permeability of the membrane to promote collagen tissue, reduce wrinkle and invisible appeared fine line, also lift the skin result for a younger and healthy look. Ultrasonic accelerate blood circulation, muscle relaxation, and decompose the cellulite to break down to exceed fat.
2)Hot&Cold therapy hammer
Use the hot&cold hammer to shrink pore after skin moisturizing and nutrition importation, this cooling therapy can promote sin tightening and enhance acne relieving and smoothing, to calm down the skin on the face.
3)Microcurrent handle
Reduce dark circles under the eyes, remove wrinkles, reduce scar formation. Accelerate collagen synthesis, repair the broken skin barrier, improve swelling, and scar.
4)-ION
Through the output of the simulated human body's own biological current, through the skin into muscle cells, stimulate the energy contained in the cell ATP, so that the cell returns to normal operation and function. This equipment is the application of the latest technology, the present computer program, facial lines, grinding, double chin, wrinkles, crow's feet, bags, black circles, and other better shape, promote facial blood circulation and transfer, reduce facial splash and pore contraction. Biological firming, refining facial skin in the state of blood, play a role in anti-loose skin, to achieve the purpose of beauty.
5)Sextupole RF handle
For face re-shaping. Facial RF head capacitive coupling electrode is used for transmitting radio-wave energy and generating an electric field for entering into subcutaneous tissue through the skin surface. To reply to the rapid change in electrode, directions of electrical particles in the skin are also changed. By this time, natural electric resistance in the subcutaneous tissue moves and generates heat energy. As the papillary dermis collagen may immediately shrink when the temperature is within the range from 60 to 70 Celcius degree, after wrinkle treatment, the client may immediately sense the skin tightening effects as it is being lifted and firmed. When collagen is produced continuously, the thickness and density of the skin papillary dermis may be increased to remove wrinkles, eliminate scars, restore skin elasticity and gloss and make it be blonde and smooth. While collagen is increased, fresh skin is generated in the position of operation, and wrinkles are removed by a large number of cells. In addition, when the cortex without elasticity or that with a thick horny layer in the area with wrinkles is separated, the surrounding skin will also be renewed.
Specification:
Power supply Input:100V-240V
Power: 190W

BIO microcurrent Probe
Power supply output: 24V
Frequency: 1.5K
Power: 1W

Sextupole RF Handle
Frequency: 1MHz
Power: 30W

Working mode: Ultrasonic high frequency (1MHz)
Output frequency: 7W
Output voltage: DC 15V

Cold Hot Hammer
Cold: 0-5 degree
Hot: 45 degree

Ion- Probe
Power: 5W

Shipping cost is based on weight. Just add products to your cart and use the Shipping Calculator to see the shipping price.
We want you to be 100% satisfied with your purchase. Items can be returned or exchanged within 30 days of delivery.