News
What is a Hydro Jelly Mask?
by Rodrigo Fagoaga on Jan 27, 2021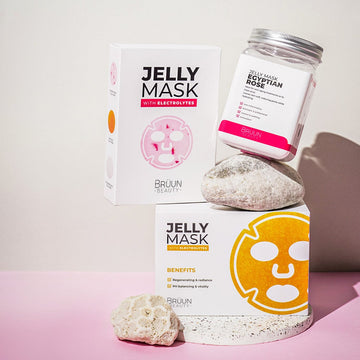 Listen, jelly doesn't just belong next to the peanut butter on your favorite sandwich… but also on your face! Get ready to glow with the Jelly Mask from Bruun Beauty, made with refined alginate to give your skin a cooling, hydrating, and smoothing effect. And so much more. This jelly face mask combines nourishing skincare ingredients with unique technology to give your complexion a boost, and here's everything you need to know about our top-rated product.
What is a Jelly Mask? 
Jelly face masks aren't just your typical skincare product. Unlike sheet masks, they aren't pieces of fabric packed with essences… but rather, a powder that you mix with water until it becomes a gooey, gorgeous masterpiece that your skin will love. There aren't even holes for your eyes and lips, as the jelly fits over these features with ease and creates extended benefits for your complexion. A jelly face mask produces a soft, vacuum-like seal over the face that deeply hydrates and pushes nourishing ingredients into the skin within 15-20 minutes - making it the ideal tool for self-care and skincare. Need extra convincing that you need a jelly face mask in your life? It's also extremely soothing and calming, and perfect for the days that your skin is red and inflamed after a brow waxing session or spending too long in the sun. Just choose your favorite flavor and get ready for your most soft, soothed, and sunburn-free skin!
Speaking of flavors, you won't believe all the yummy and glowy ingredients that you're about to put on your face. Jelly face mask is available in 24k Gold for a purifying boost of radiance and antioxidant power, Matcha for a stress-free deep clean, Lavender for purple passion that fights acne and wrinkles and more. The 10+ flavors guarantee that the jelly face mask is made for everybody, and you can switch from Kiwi to Hyaluronic Acid to Peppermint throughout the week to mix and mask!
Why do I need a Jelly Mask?
Besides the fact that a jelly face mask is ideal for all your after-work, self-care needs… it also addresses nearly any skin issue you can imagine. Each of the jelly face masks from Bruun Beauty provides a boost of major hydration while pushing nourishing ingredients deep into the skin, which is why it should be used at the end of your skincare routine, and each flavor provides additional benefits. Just a few of these include:
Reduction in dark spots

Less wrinkles and fine lines

Evens out skin texture

Smooth, soft skin

Glowing complexion

Manages oil production

Prevents breakouts
Seriously, all of these benefits after easily mixing powder and water and letting it sit on your face for 15 minutes? It's never been easier to make all your complexion dreams come true than with jelly face masks, and Bruun Beauty is always here to help you feel beautiful.