News
What is BB Glow? Is BB Glow dangerous?
by Rodrigo Fagoaga on Jan 27, 2021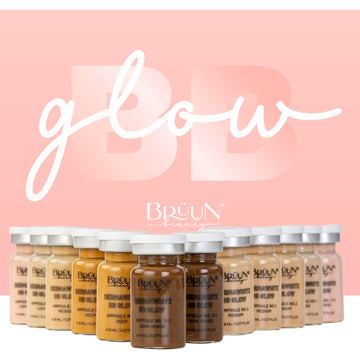 Hey BB, are you ready to glow? Pardon the cheesy pickup line, but you're going to be seriously obsessed with the BB Glow treatments by Bruun Beauty. They're unlike any beauty treatments you've ever tried, and designed to give you that "lit-from-within" and poreless complexion for up to four months at a time. No mess, no daily routine, no hassle. That's the dream, right? Here's everything you need to know about the BB Glow treatments by Bruun Beauty.
What is BB glow?
BB Glow is the ultimate skincare-makeup hybrid product that leaves you with luminous, poreless, and absolutely radiant skin for months at a time - no morning routine required. In fact, all you need is a relatively quick BB Glow training. This process consists of using microneedling - a state-of-the-art treatment that penetrates the top layer of the skin with ultra-fine needles to speed up collagen production - to infuse a BB Glow Ampoule (or BB cream) into your skin for semi-permanent makeup. Not only will you not need foundation anymore, you'll also get all the benefits of microneedling along with your effortless "no makeup" makeup look. Our BB Glow Ampoules contain added foundation, combined with Niacinamide and Peptide for the best brightening and anti-aging effects. These ingredients work together to provide instant hydration of the skin, leaving your complexion feeling soft and plump for months at a time. There's no better way to feel youthful, glowing, and fresh than with BB Glow training! This treatment is perfect for dry or sun-damaged skin, pigmented and uneven skin tones, tired and sensitive skin, or those who just want to wake up and not have to do their makeup!
How long does a BB Glow last?
When you start BB Glow training, you'll have the most healthy, hydrated, poreless and glowing skin for quite a while. While the length can vary by individual, most people can maintain results for up to four months. That's right - four months without having to wake up early and do your face makeup! Our BB Glow Ampoules are available in five colors to suit your specific skin tone, and you can continuously use our Serums and other skincare products to maintain your results for longer. With BB Glow training, you'll be able to fade dark spots, hydrate the skin, protect against free radicals and more while maintaining a gorgeous complexion without effort… and it's the best thing ever.
Is BB glow dangerous?
Definitely not! Our Bruun Beauty BB Glow Ampoules and Micro Derma Pens are 100% safe for everybody to use. In fact, our BB Glow training comes with minimal pain and is generally easier than most microneedling treatments. This is due to our special cartridges that penetrate the top layer of skin at a shallow depth, but high speed. All the benefits - with virtually no pain, and 100% safe for all skincare junkies.