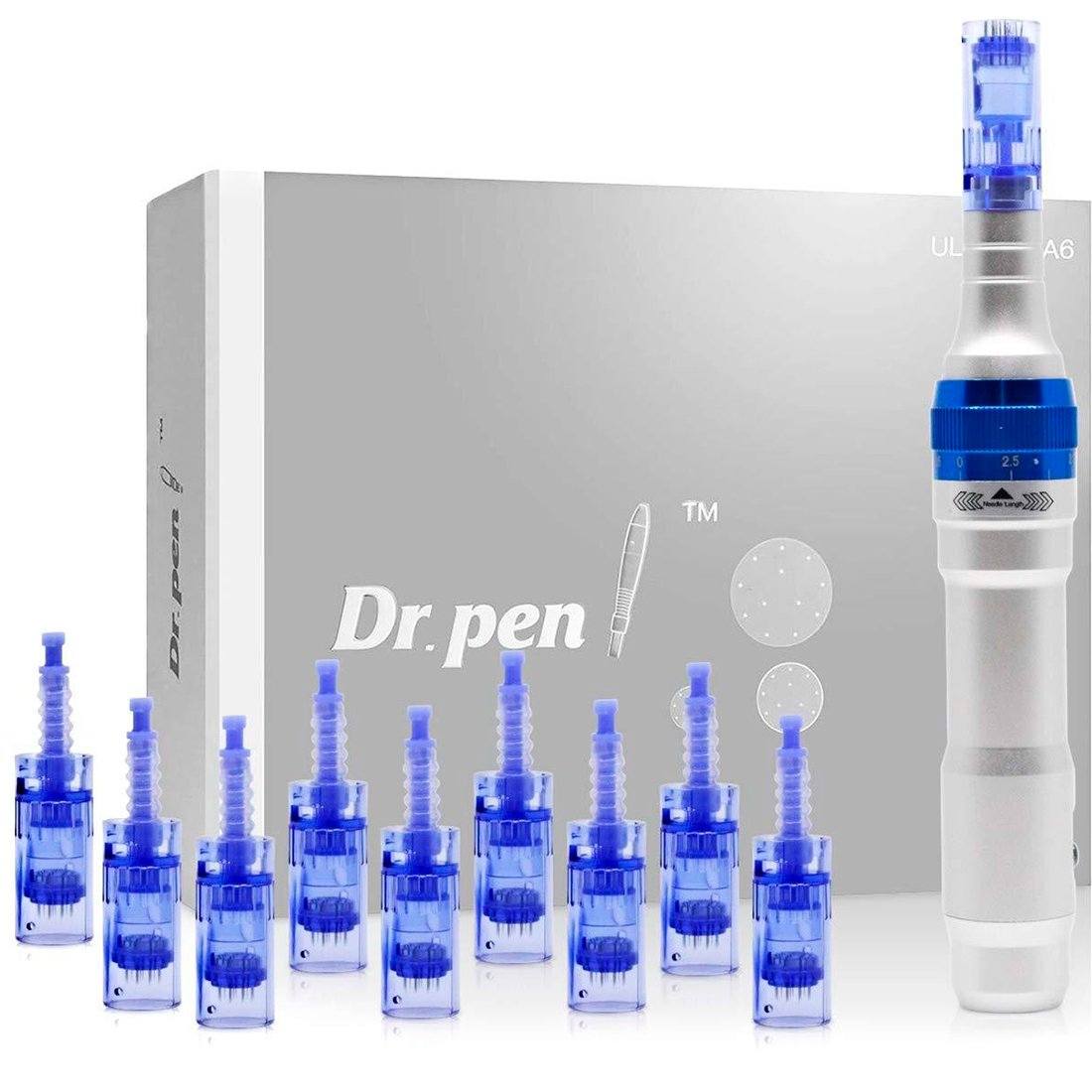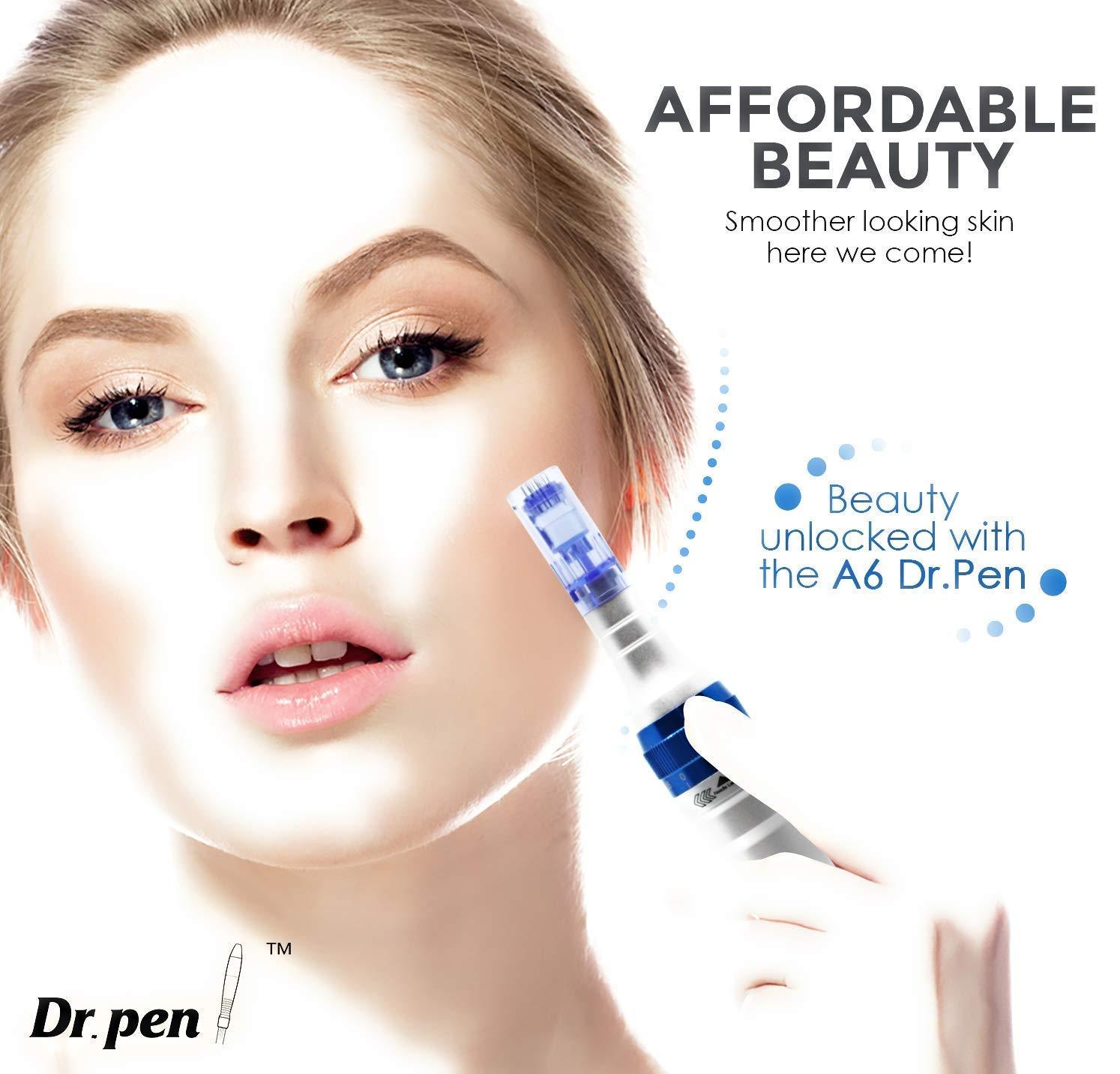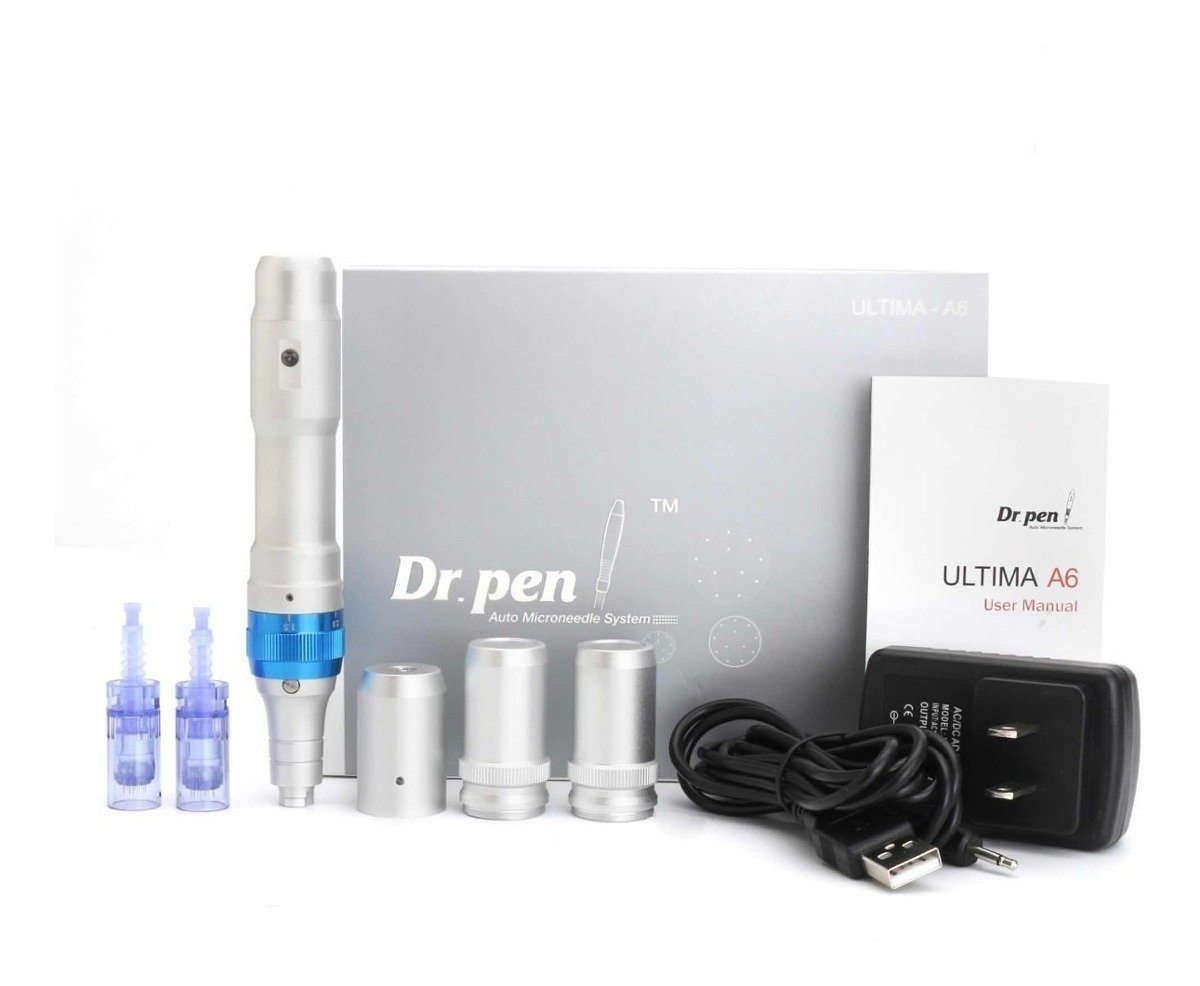 Dr. Pen Ultima A6 Professional Microneedling Pen + 32 Cartridges
Regular price
$198.05 AUD
Sale price
$198.05 AUD
Regular price
$297.86 AUD
Estimated Delivery: (USA Only)Sep 26 - Sep 30

Free Shipping: On all orders over $39 (USA Only)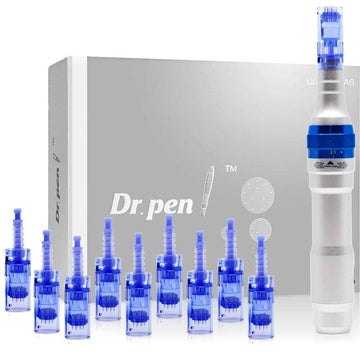 Dr. Pen Ultima A6 Professional Microneedling Pen + 32 Cartridges
Regular price
$198.05 AUD
Sale price
$198.05 AUD
Regular price
$297.86 AUD
Product description
Shipping & Return
Perfect Derma Pen For Your Face And Body | All-In-One Skin Care Kit
Dr. Pen Ultima A6 Professional Micro-Needling Pen is the perfect addition in your Skin-care kit.
What is Electric Microneedle Mesotherapy ?
Electric Microneedle Mesotherapy is much more safe and has an excellent effect on piercing into skin by numerous needles automatically. It has a superior effect on collagen and elastin rejuvenation, direct EGF supply in deeper layers of skin without an epidermal damage. 
Its Vibrating function excellently increases the effectiveness of treatment by increasing absorption of products, and on the other hand reduces pain & discomfort.
Micro-needling derma pens are automatic and electric. You don't need to buy a new one every time. Just replace the needle. 
Needle length is adjustable from 0.25mm to 2.5mm according to the areas and purposes of the therapy. It is more convenient to treat narrow areas such as the nose, around the eye or mouth.
Also, the Vibration speed can be controlled in 5 levels.
Dr Pen A6, the revolutionary Micro Derma applier, the most reliable and durable of its kind. It comes with perfect combination of Microneedles, variety of sizes and quantity of pins for the highest  performance. Also, the delivery system of this needles saves you a 30% of BB Glow in the process.
Everyone desires to have a healthy, spotless and wrinkle-free glowing skin. A traditional treatment to achieve this common goal can cost hundreds and thousands of dollars with time consuming and painful methods. Keeping your needs in mind, we're offering a complete Dr. Pen A6 package that can solve your skin problems such as surgical scars, acne, burns, wrinkles, stretch marks and fine lines at a fraction of the regular cost to enhance your skin's health and look.
PACKAGE INCLUDES -

✔
Dr. Pen Ultima A6 micro needling pen
✔
2 Rechargeable High-Power Batteries,
✔
10pcs 36-pin (32pcs total) replacement cartridges
✔
US Wall charger and cord
PURPOSE:

 This original

Dr. Pen Ultima A6 Microneedling pen

system will smooth scars due to

acne, burns or surgery

.

 

Remove wrinkles, stretch marks

and

any kind of uneven areas

on facial skin.

AFFORDABLE: 10pcs (NANO-pin) + 12pcs (12-pin) + 10pcs (36-pin) A total of 32 micro needles in Dr. Pen A6 makes it a absolutely inexpensive option for you as it is more cost-efficient than derma rollers.

GERM-FREE: Our needles are sterilized and individually sealed

to prevent any microbes to penetrate. These are for one time use only and should be disposed-of after use.


CUSTOMIZED: Dr. Pen Skin care kit is fully adjustable with a dial that allows for varied depth in needle penetration. Although Maximum depth is dependent on the type of cartridge you use.

EASY TO USE: This Derma pen can be used with a cord or as cordless, as it comes with 2 long-lasting removeable batteries.
BENEFITS OF DR. PEN A6

✔ Smooth skin

✔ Opens pores
✔ Collagen boosting
✔ Stimulate hair regrowth
✔ Stimulate healthy glow
✔ Painless and comfortable
✔ Improve skin tone and texture
✔ Increases effectiveness of skin-care products
DIRECTIONS FOR USE
Dr. Pen can be used with plugged cord and 2 powerful batteries allow its cordless usage. This Derma pen has an adjustable dial which enables professional-grade needle depth, according to treatment and client requirements. It's super hygienic individual Microneedling packaging and disposable features allow safe treatment as they are only for one-time use.
---
FAQ:
1. How is this Different from the Traditional Micro-Needling?
- Traditional Microneedling requires machines which make use of needles that create micro punctures on the skin to facilitate natural collagen induction. Quite a lot of bleeding takes place in the traditional micro-needling process. BB Glow, on the other hand, uses special needle cartridges which only stretch the skin cells to facilitate easy absorption of the serums used. Hence there is no need for any numbing cream, and there is absolutely no bleeding in the process.
2. Is this Procedure Painful like the Micro-Needling Process?
- The special cartridges just rams the upper layer of the facial skin at a high speed. So except for feeling a very light force being applied on the skin, there is really no other kind of pain involved. BB Glow is a new virtually painless type of micro-needling therapy.
Shipping cost is based on weight. Just add products to your cart and use the Shipping Calculator to see the shipping price.
We want you to be 100% satisfied with your purchase. Items can be returned or exchanged within 30 days of delivery.